Inspiration comes from change
When I reflect over the past year, I'm continuously inspired by the increasing awareness and urgency to change.
Last year, I walked in the Climate March in New York City with hundreds of thousands of people who all want to create and experience a different world. I was touched to see that many banners at the march made the link between climate change and the role of money, such as the demand to divest from fossil fuels. More and more, people are recognising the catalysing role of money which is something that Triodos has been propagating for over 35 years. It also showed me that this link is becoming less niche and that it is the people who drive the change.
The role of interconnectedness
When looking back at 2015, I'm hard pressed to not discuss climate change. Climate change is happening and it's on the top of everyone's mind and most recently because of the Paris Climate Summit (COP21). It makes us aware that the way we live affects our natural environment, and that climate change is a global issue.
There is a new consciousness. We are on the verge of understanding how we are interconnected not only with each other, but also with nature. Climate change has incited this sense of solidarity and urgency among everyone.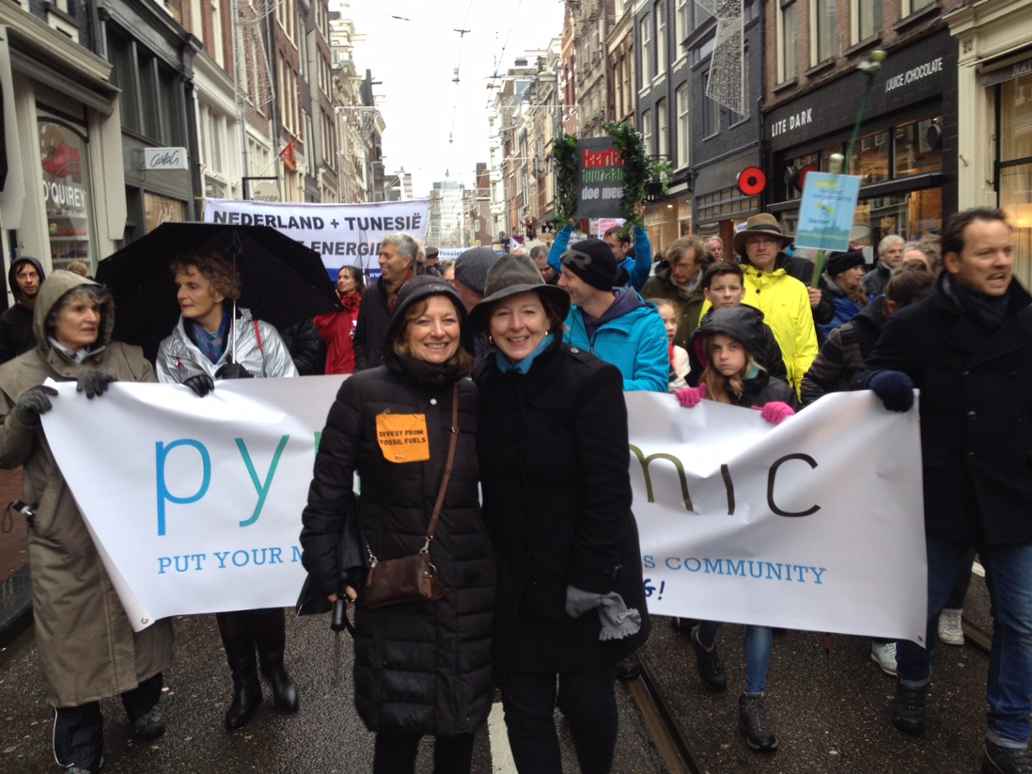 But, it's not just with nature that we see this interconnectedness; it is also through people and the desire to want to do more to ensure everyone has an equal opportunity. Increasingly, people are using money to connect with causes they are passionate about with the hopes of linking with others to stimulate enough momentum to make a change.
There is a lot of success with crowdfunding because of this shared sense of solidarity and interconnectedness. In 2015, Triodos Bank started the LEAF Lab to map out initiatives in the Local Economy and Alternative Financing. We want to find out how we can cooperate with these innovative platforms to stimulate lasting positive change. It is a natural step in our progression as a company because what drives this movement to use money for its transformative power is what is behind our own story now for over 35 years.
The paradox in impact investing
At Triodos Investment Management our assets under management have grown in 2015; we are still a relatively small player in the financial sector, but with ambitions to make a larger impact. We are constantly faced with this paradox of knowing that despite our social and profitable growth, impact investing is not all rosy and an easy road to travel. Sometimes I ask myself: "Is what we're doing enough?" and with the increase in regulatory pressure and bureaucracy it's imperative to not lose our authenticity and essence that pushes us forward.
Change is not a linear process. I strongly believe that it is the small things that together create the most lasting impact. This year we added inspiring new investments to our diverse portfolio both in Europe and emerging economies, for example M-KOPA Solar, a company that combines renewable energy and technology to bring access to energy to East Africa's rural populations. The lasting impact of M-KOPA exceeds the financial investment.
Collaboration is a necessary step
What I have also seen is that the link between the people's voice and the financial sector has grown stronger due to our shared understanding of interconnectedness. Progressive pension funds, such as PGGM and other institutional investors are really listening to what their clients are saying and how important it is to invest their money sustainably. Therefore, there is this positive pressure to meet the demands of the client and bigger societal changes.
Institutional investors are taking the necessary steps to help perpetuate impact investing. Part of our strategy in 2016 and the coming years is to have a more balanced portfolio in terms of investors and we see institutional investors playing a more important role in our vision for creating valuable impact.
By looking at the needs of society, we also aim to make a bigger impact through collaboration with other colleagues in the industry. This year, we collaborated with Rabobank to create the Triodos Multi Impact Fund, which gives Dutch retail investors the opportunity to connect with multiple sectors and generate impact with their money. By co-creating with one or two institutional investors in the coming years, we can examine other sectors that are currently not within our scope, but also important to our transition to a fairer and more sustainable world.
In the end, we can't do this alone. Looking back at 2015 and looking ahead, I am inspired by both the urgency and optimism being vocalised by the people and the awareness of our societal and natural connection. We must continue to harness that connection and work with different players to achieve lasting impact, which is intrinsic to our business.