The AlphaJiri Fund made its first investment in SunCulture, a Kenya-based technology company and a leader in solar water pumps and irrigation solutions for smallholder farmers.
The fund provides debt, mezzanine debt and equity investments for small and medium-sized enterprises (SMEs), with an initial focus on East Africa. The fund is managed by AlphaMundi's local team in Nairobi, Kenya; Triodos Investment Management provides support on governance and operations. Stiftung Abendrot, a Swiss sustainable pension fund, is also an anchor investor in the fund.
"There's a lot of SMEs that cannot get a loan from local financial markets because they are still at too early a stage to satisfy collateral requirements from local banks. Impact investing vehicles like AlphaJiri help address this funding gap and scale up entrepreneurial solutions for the Sustainable Development Goals" says Mehboob Madhavji, co-founder of the AlphaMundi Group.
Karel Nierop, Fund Manager of the Hivos-Triodos Fund, adds: "This partnership between AlphaMundi, Triodos Investment Management and Stiftung Abendrot gives us the opportunity to leverage the institutional strength of Triodos Investment Management as a globally active impact investor and Stiftung Abendrot as a sustainable pension fund, with the local team and network of AlphaMundi."
SunCulture: off-grid solar for water and energy
The debt facility to Kenya-based SunCulture marks the fund's first investment to launch SunCulture's innovative 'Pay-As-You-Grow' (PAYGrow) facility. SunCulture offers productive off-grid solar use for smallholder farmers. Its flagship products are high-quality yet affordable solar irrigation pumps that can pump water from as deep as 70 meters to use for crop irrigation and livestock rearing, as well as domestic uses. It also offers pumps for community projects, such as schools and office buildings that want a steady supply of water and clean off-grid electricity. Through the 'PAYGrow' facility, it becomes easier for farmers to purchase SunCulture's products through an innovative leasing scheme.
Four out of five African families depend on agriculture for their livelihoods, but just four percent use irrigation, with the rest relying on increasingly unpredictable rainfall. At the same time, over half the population in sub-Saharan Africa lacks access to reliable sources of energy. SunCulture's systems enable customers to increase their agricultural productivity, while accessing a steady supply of water and energy for household use.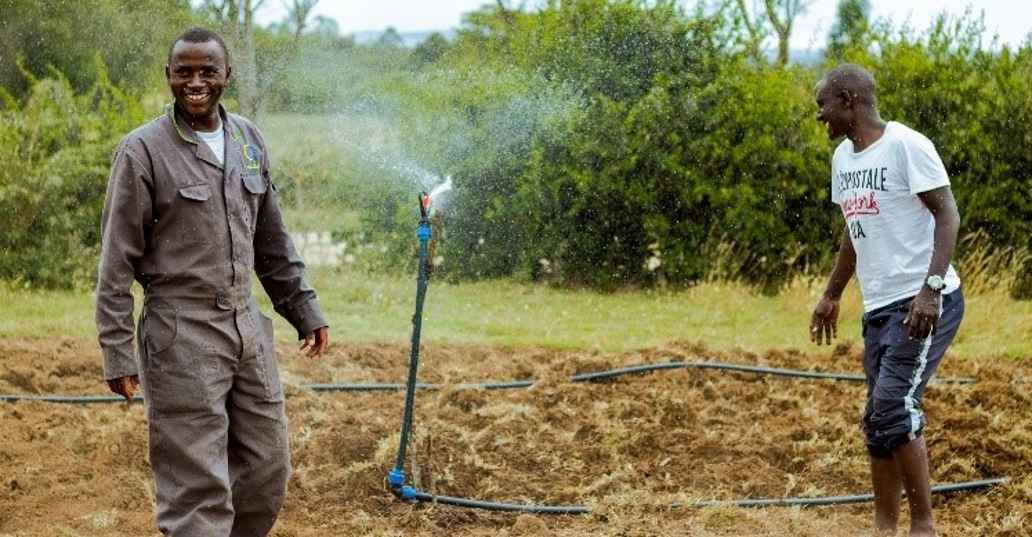 Karel Nierop: "SunCulture is exemplary for the projects that we want to finance with the AlphaJiri Fund. Through increasing yields, growing higher-value crops, expanding land under cultivation, and raising more livestock, farmers increase their incomes 5x - 10x whilst maintaining sustainable soil management. It is a great example of creating climate-resilient livelihoods."
Technical assistance
The AlphaJiri Fund also offers a technical assistance (TA) facility, through a grant provided to the AlphaMundi Foundation in Washington, D.C., by development agencies from Sweden, the US and Germany. This facility will support the companies in measuring and reporting social impact and researching on new products. SunCulture used the technical assistance to support the development and launch of the PAYGrow credit policy and processes. Open Capital Advisors in Nairobi delivered the TA.
Tim Radjy, Managing Partner of the AlphaMundi Group: "SunCulture operates at the nexus of renewable energy and agriculture. It offers high product specifications in the market at an affordable price, accessible through a PAYGrow offer. We are very excited that after supporting the company with TA, we are now in a position to provide debt funding to support the growth of its PAYGrow portfolio and to contribute to improving the lives of many more farmers and their families."
About the partners
AlphaMundi Group Ltd, a Swiss impact investing advisory firm that was created in 2008. AlphaMundi Group's mission is to provide market-based solutions to the world's most pressing challenges, including sustainable agriculture, renewable energy, and financial services to the poor. Over the last decade, AlphaMundi Group has invested USD 60M through 150 transactions in 50 SMEs across Latin America and Africa, impacting more than 5 million beneficiaries. The AlphaMundi Foundation's Gender Lens and PoweringAg grant programs complete the investment group's range of instruments to help achieve the Sustainable Development Goals.
Triodos Investment Management is a globally active impact investor, offering investable solutions to address today's most critical sustainability challenges with EUR 4.6 billion in assets under management as per 30 June 2019.
Established in 1994, Hivos-Triodos Fund is a joint initiative with development organisation Hivos and one of the first movers worldwide in financial inclusion investments. Nowadays, the fund invests in scalable organisations in emerging markets to catalyse a sustainable, inclusive and green economy, specifically in financial inclusion, sustainable agriculture, and renewable energy solutions for -low-income households.
Stiftung Abendrot is a Swiss pension fund scheme set up in 1984 and currently serving 1,200 companies and 14,000 direct beneficiaries. The Foundation manages assets worth CHF 2 billion, with a sustainable investment policy that includes a commitment to a fossil-free portfolio and an increasing exposure to microfinance and impact investing opportunities.
Hivos-Triodos Fund
Read the interview with fund manager Karel Nierop about 25 years of impact investing.