Fully-fledged bank
Arvand is one of the oldest and largest microfinance institutions in Tajikistan. Having started out as an NGO with 12 employees in 2002, Arvand has developed into a fully-fledged bank with over 900 employees and 70 branches.
The bank currently provides loans to over 40,000 Tajiks, focusing on those segments of the population that need its products and services the most. Its customers range from local farmers who want to buy more livestock to women selling textiles who are looking to expand their inventories. Over 70% of Arvand's customers live in rural areas, where access to funding is very limited.
Arvand also provides payment services and offers savings accounts. The bank currently has over 40,000 savings customers.
Winning back trust
in September 1991 the Soviet Union fell apart and Tajikistan became independent. One of many negative consequences was that some banks failed and Tajiks lost their savings on a massive scale. In other words: for many years, getting access to financial resources was a challenge for a large part of Tajikistan's population.
Microfinance therefore developed into an important development resource and was crucial for the rebuilding of Tajikistan's economy. The government was aware of this fact and in 2004 passed a law that provided a legal framework for offering and developing microfinance activities.
However, developing this market was not without its issues. "Tajiks have lost their trust in the financial sector, as many of them lost their savings in the 1990s," explains Sodiqova. "Even taking out an insurance policy is something that they still tend to shrink back from. The same unfortunately applies to loans. We have worked hard to win back that trust."
A cash economy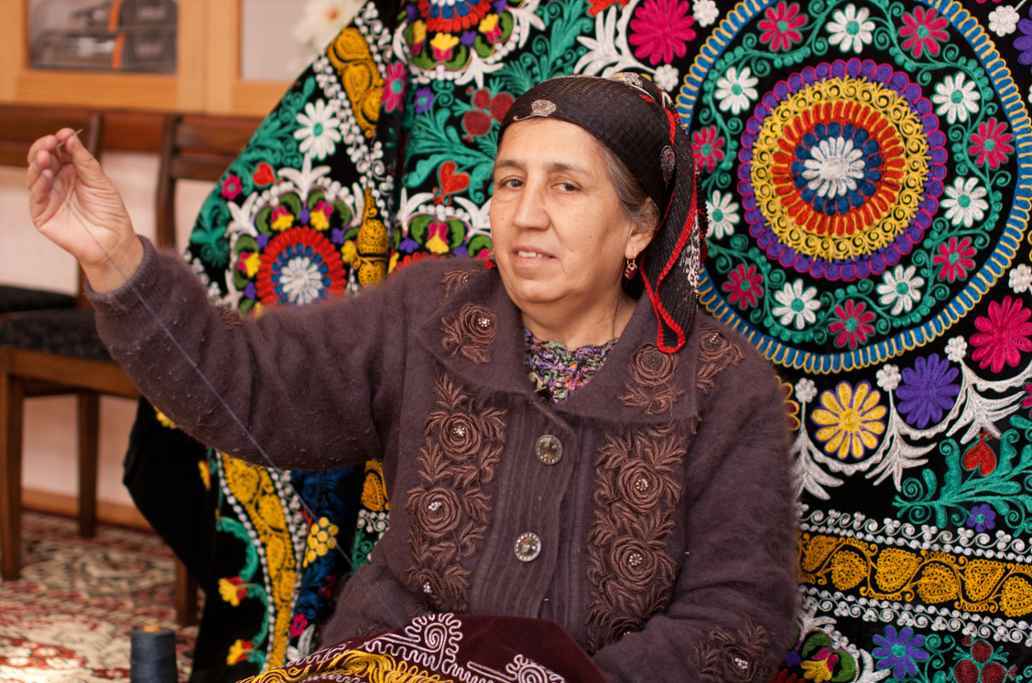 It is indeed because Tajiks do not trust financial institutions, that they prefer to keep their money under their mattresses. Or invest their money in something tangible, for instance gold or cattle. As a result, 95% of Tajikistan's economy is cash-based.
Microentrepreneurs therefore rarely have bank statements or other financial documents. This makes the work of microfinances institutions a challenge, as they have little or no insight into the financial situation of potential borrowers. "We do of course ask them a lot of questions and visit their businesses or homes. But what it ultimately comes down to is trust," says Sodiqova.
The cash-based nature of the economy also has a number of practical implications. For instance, bank branches need to hold large amounts of cash - often in local currencies, Russian rubles or American dollars - in order to provide loans. This is time-consuming and also entails security risks.
In order to win the trust of its customers, Arvand has invested (and continues to invest) a great deal of time and effort in the financial education of its customers. Sodiqova: "We explain to them how we operate, when is the best time to take out a loan and how we gear the size of their loan to their repayment capacity. This allows both us and the customer to keep an eye on the financial risks and enables us to establish a relationship based on trust." This is going really well. More and more Tajiks are showing an interest in taking out a loan or opening a savings account.
Everyone is responsible
Mutual trust, therefore. This is the key to successful financial services, says Sodiqova, provided that everyone assumes their responsibility: "Customers must be honest about their financial situation, so that microfinance institutions can provide the right types of loans. Microfinance institutions in turn, must inform customers about responsible borrowing behaviour and the client must be receptive to such information."
"If all parties involved adopt this attitude, mutual trust can grow," she concludes. "Only then can microfinance succeed."
Triodos Fair Share Fund and Triodos Microfinance Fund have been shareholders in Arvand since 2014 and have been represented on its board of directors throughout this period. "This partnership is very important to us," says Sodiqova. "It enables us to keep growing and Triodos provides support for our strategic development."
Explore our impact report 'Creating an inclusive world' to find out more about our role as investor in financial inclusion. The report presents our 2019 results in a context of number and stories and showcases our mission to make money work for positive change.