Triodos Food Transition Europe Fund has held an equity share in Aarstiderne since 2014, supporting the company to expand its market share.
Core impact indicators (figures as per end of 2019)
Organic food turnover
EUR 81 million
% of plant-based turnover
31.4%
CO2 per 1000 DKK revenue
9.1 kg (compared to 9.26 kg in 2018)
Food waste % of total purchase
Less than 1%

Towards ecologically and socially resilient food systems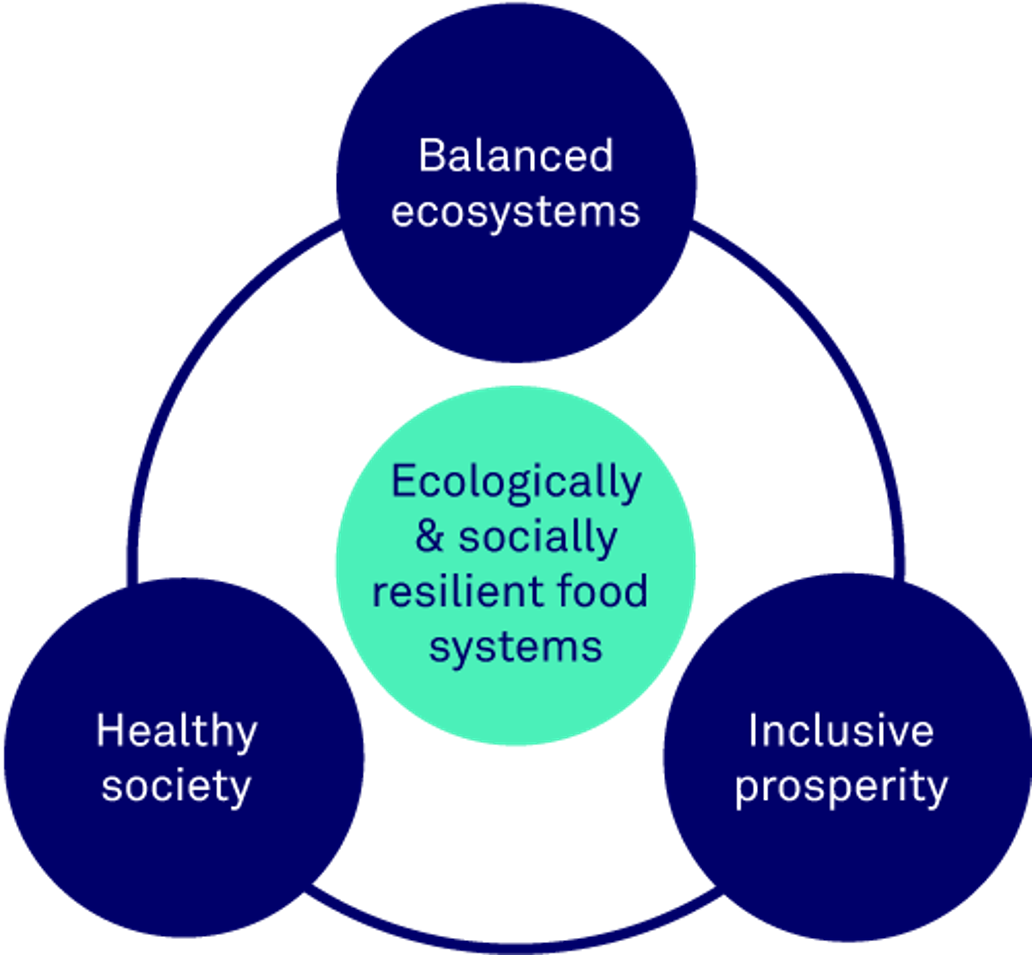 Triodos Organic Growth Fund believe that food and agriculture systems should deliver healthy nutrition for all, without damaging the natural systems they depend on, and deliver inclusive prosperity for those active in the food and agriculture chain.
The portfolio companies the fund invests in must contribute to these pillars – balanced ecosystems, healthy society, and inclusive prosperity – that contribute together to ecologically and socially resilient food systems. Aarstiderne's contribution is shown below.
Aarstiderne's contribution to Balanced Ecosystems
Aarstiderne exclusively works with biodynamic and organic farmers; 92% of its offering is certified organic. The remaining 8% consists of fish and non-food items which cannot be certified organic.

Aarstiderne has selected these farmers for their production methods and the way they work with nature, such as preserving biodiversity and healthy soils, and a responsible usage of water. Increasingly, farmers follow permaculture techniques and no-tillage principles, use composting and build up natural insect populations for predator defence.

The company has decided to be in carbon balance in 2020 by insetting and offsetting carbon emissions. In 2019, the CO2 emissions per Danish Krone turnover decreased by 1.7%.

All meal boxes can be reused four times.

Aarstiderne has a strong focus on minimising food waste by selling excess food in its farm shop to wholesalers, using it for fermentation and juices, donating to the food bank and using it as animal feed. As a result, in 2019, less than 1% of Aarstiderne's total food purchases went to waste.



Aarstiderne's contribution to a Healthy Society
Aarstiderne sold 1.25 million healthy organic food boxes in 2019.
In terms of more sustainable diets, the company introduced two new meal boxes: Vegetarian for families with children and gluten-free vegan. The percentage of vegan/vegetarian meal boxes was 31.4% in 2019.
With a combined social media following and mailing list subscribers of over 200,000, Aarstiderne inspired people with healthy organic food recipes using as many local products as possible.
In 2019 the company published two new books to promote sustainable food and agriculture: 'The fermented kitchen' and 'Grow life'.
Aarstiderne welcomed 12,000 visitors to its harvest markets and 14,000 dinner guests at its venues.

Aarstiderne's contribution to Inclusive Prosperity
Aarstiderne works with approximately 225 suppliers that are predominantly small or medium-sized family farms in rural areas, mainly in Denmark and Europe but also in Latin America. By doing so, Aarstiderne contributes to economic growth and job creation.
Aarstiderne promotes knowledge sharing about organic farming and support suppliers in improving efficiency and yield. Many of them have grown together with Aarstiderne as it increased its meal box offering.

Aarstiderne is one of the investments of Triodos Food Transition Europe Fund. Discover in the 2019 Impact Report how the fund aims to accelerate the transition to a sustainable food and agriculture system. The report also highlights the other investments in portfolio.