Aarstiderne witnessed a surge in business in 2020 due to the pandemic. It launched an online Planetary Food Shop to increase customer access to organic products. This led to an increased range, and Aarstiderne continues to ensure that all goods are responsibly produced, packaged, and transported.
At the Swedish retail awards 2020, Aarstiderne Sweden won the category as the 'Most sustainable retail company of the year' in fierce competition from the likes of Lidl and Apotea.
Core Impact Indicators (data as per year-end 2020)


Goal

Increase accessibility to organic food

Provide healthy and nutritious food

Reduce GHG Emissions

Conscious use of resources


KPIs

1.84 million
deliveries in 2020

27.6%
of all meal boxes are vegan or vegetarian

13.7%
decrease in CO2 emissions per delivery (from 3.34KG CO2 to 2.88KG per drop)

0.76%
of all the food purchased went to waste (down from 1.08% in 2019


SDG
Towards ecologically and socially resilient food systems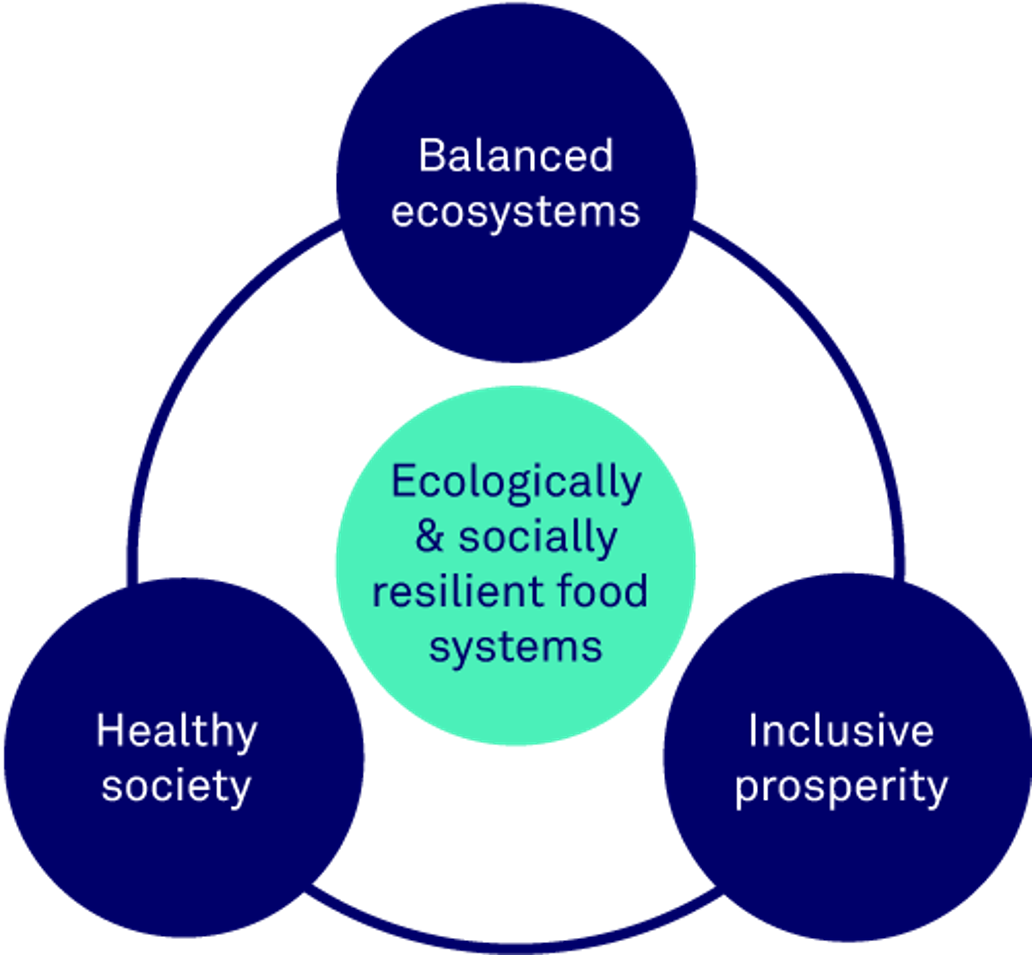 Triodos Food Transition Europe Fund believe that food and agriculture systems should deliver healthy nutrition for all, without damaging the natural systems they depend on, and deliver inclusive prosperity for those active in the food and agriculture chain.
The portfolio companies the fund invests in must contribute to these pillars – balanced ecosystems, healthy society, and inclusive prosperity – that contribute together to ecologically and socially resilient food systems. Aarstiderne's contribution is shown below.
Aarstiderne's contribution to Balanced ecosystems
With the mission to reduce emissions across the value chain, Aarstiderne has produced CO2 accounts for more than a decade. Despite an increase in business operations, Aarstiderne witnessed a historic drop in CO2 emissions in 2020. This data should be interpreted with caution because parts of this can be attributed to changes brought by COVID-19.
Aarstiderne exclusively works with biodynamic and organic farmers; 92% of its offering is certified organic. The remaining 8% consists of fish and non-food items which cannot be certified organic.

Emissions per DKK'000 revenue decreased to 7.66 kg, which is 15.8% lower than in 2019.

In 2020, it managed to decrease the emissions per drop to 2.88 kg, which is 13.7% lower compared to 2019. These results were mainly achieved by economies of scale, more efficient use of transport and the COVID-19 pandemic leading to less company travels and commuting.

To balance the company's CO

2

emissions, Aarstiderne bought 16,000 tons of CO

2

credits from National Capital Partners offsetting emissions for approximately three to four years.

In 2020, only 0.76% of total purchases was recorded as food waste, which is 29% lower than in 2019. This was achieved through good forecasting and planning, selling excess food in Aarstiderne's farm shop, using it for fermentation, donating to the food bank and using it as animal feed. Moreover, the remaining food waste was converted into biogas by a partner.



Aarstiderne's contribution to a Healthy society
Aarstiderne was established to increase accessibility of organic food for customers, a promise it continues to deliver on every day.
Aarstiderne had 1.84 million food drops in 2020, serving approximately 80,000 households in Denmark and Sweden.
Following the 80/20 principle, Aarstiderne strives to include 80% calories from plant-based offerings and 20% from animal sources, such as meat and dairy products. On average, the meals in the meal boxes in 2020 was 74% plant-based and 26% animal-based.
With around 20 different types of meal boxes, Aarstiderne caters to a range of customers by providing child-friendly, calorie-calculated, vegetarian, vegan and other varieties of meal boxes.
To ensure the highest quality of products, Aarstiderne tests samples from producers on around 250 different pesticides, increased bacterial count and longevity.
Aarstiderne constantly engages with customers to educate them and increase awareness about ecology and sustainability by conducting workshops to teach about waste reduction and publishing books promoting plant-based diets. Their new farm shop and café are based in a space that encourages visitors to learn more about natural resources and sustainability.
Aarstiderne's contribution to Inclusive prosperity
Aarstiderne has created long-standing partnerships with organic suppliers in Denmark, Southern Europe, and other parts of the world.
Aarstiderne works with approximately 225 suppliers, mainly in Denmark and Southern Europe but also in Latin America, of which approximately 100 are smallholder farmers.
35% of the ingredients used by Aarstiderne are sourced locally from Denmark, improving the local economy.
Aarstiderne creates a fair value chain by allowing producers to price their fruit and vegetables produce themselves in the proprietary supplier portal.

Aarstiderne is one of the investments of Triodos Food Transition Europe Fund. Discover in the 2020 Impact Report how the fund aims to accelerate the transition to a sustainable food and agriculture system. The report also highlights the other investments in portfolio.