The company sells certified organic products, premium quality for the farmer's life and preservation of the earth for future generations.
Core impact indicators (figures as per end of 2019)
Volume of organic products sold
33.3 million kg
Organic turnover in millions EUR
EUR 79 million
Towards ecologically and socially resilient food systems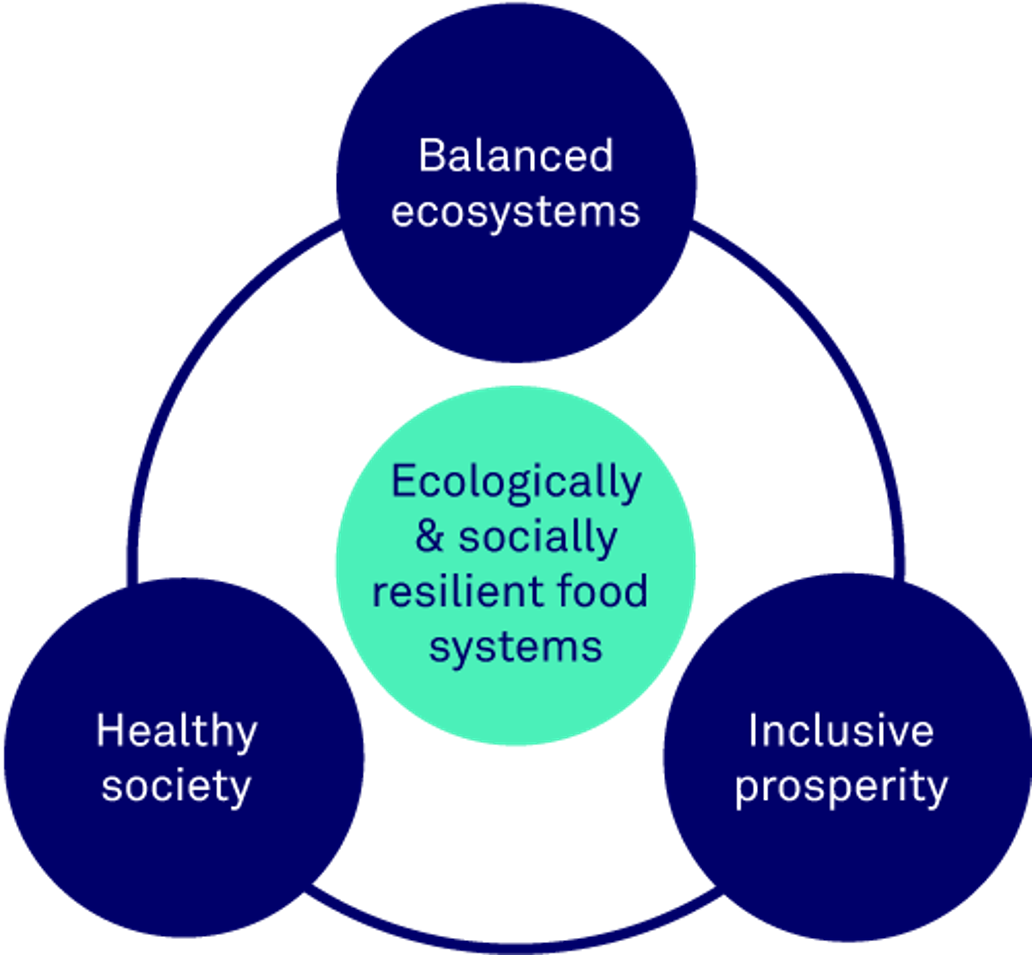 Triodos Food Transition Europe Fund believe that food and agriculture systems should deliver healthy nutrition for all, without damaging the natural systems they depend on, and deliver inclusive prosperity for those active in the food and agriculture chain.
The portfolio companies the fund invests in must contribute to these pillars – balanced ecosystems, healthy society, and inclusive prosperity – that contribute together to ecologically and socially resilient food systems. DO-IT's contribution is shown below.
DO-IT's contribution to Balanced Ecosystems
DO-IT contributes to a balanced ecosystem by stimulating and facilitating the consumption and production of affordable organic food, while striving to minimise its ecological footprint.
DO-IT exclusively deals with organic crops, ensuring that no damaging pesticides or herbicides are used and enforcing mandatory crop-rotation, which preserves biodiversity and soil-quality.
It seeks to reduce its carbon footprint by:

Managing its waste streams by using compostable packaging for 95% of its products aiming for 100% in the coming years.
Selecting transporters with the cleanest fleets and avoiding road transport where possible.
Supporting farmers to apply the SRI (System of Rice Intensification) method for sustainable rice cultivation. This method benefits soil and root systems, drops seed use by 80 to 90% and water input by 25 to 50%.

DO-IT's contribution to a Healthy Society
Accelerating the transition from a conventional to organic agricultural system is the core of DO-IT's business. Reliability of supply and keeping it affordable are key drivers. Also:
DO-IT promotes plant-based diets by increasing the offering of plant-based proteins used for meat alternatives, which experienced a revenue growth of 10% in 2019.
It raised awareness for organic diets in trade and consumer magazines (10 in 2019) and at various trade fairs (15 in 2019) and supports various industry bodies, such as Bionext, Bio Academy and Opta.

DO-IT's contribution to Inclusive Prosperity
DO-IT supports a variety of social and environmental projects on an ongoing basis.
The company also strives to be an inclusive employer and attract a diverse work force who are paid above industry benchmarks.
A code of conduct is currently being developed which will stress how all DO-IT's stakeholder rights are ensured and actively managed.

DO-IT is one of the investments of Triodos Food Transition Europe Fund. Discover in the 2019 Impact Report how the fund aims to accelerate the transition to a sustainable food and agriculture system. The report also highlights the other investments in portfolio.