Ecoffee Cup's main product is a bamboo fibre-based coffee cup in different sizes and designs that offers an alternative to the single-use coffee cups at coffee chains.
Core impact indicators (figures as per end of 2019)
Reusable cups sold
1.7 million
% renewable input
97% (bamboo fibre, corn starch, aloe and soy resin)
Annual R&D spend
5% of turnover (GBP 280,000)
Towards ecologically and socially resilient food systems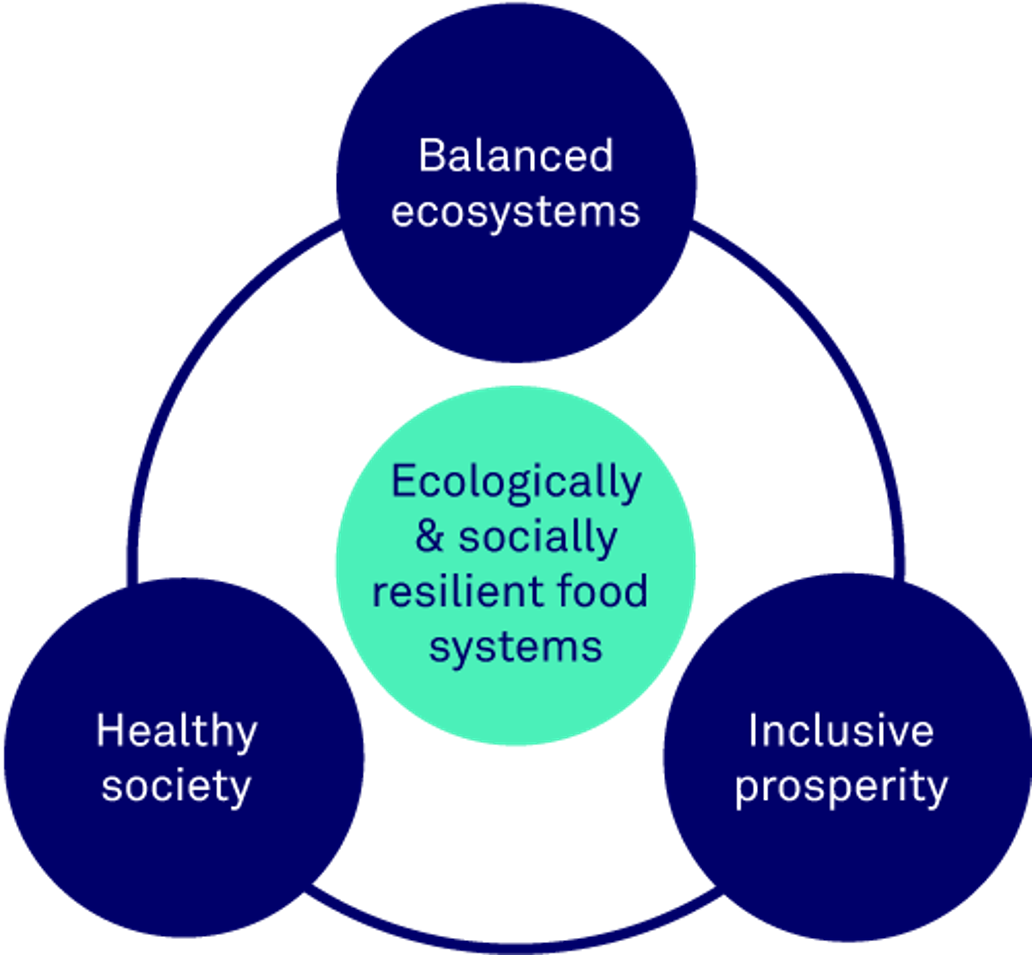 Triodos Food Transition Europe Fund believe that food and agriculture systems should deliver healthy nutrition for all, without damaging the natural systems they depend on, and deliver inclusive prosperity for those active in the food and agriculture chain.
The portfolio companies the fund invests in must contribute to these pillars – balanced ecosystems, healthy society, and inclusive prosperity – that contribute together to ecologically and socially resilient food systems. Ecoffee Cup's contribution is shown below.
Ecoffee Cup's contribution to Balanced Ecosystems
With the sale of 1.7 million cups in 2019, Ecoffee saved an estimated 20-30 million single-use cups from landfill, assuming everyone uses a cup on average once a month instead of single-use cups.

The main material for the cups is bamboo, which absorbs carbon dioxide and releases 35% more oxygen into the atmosphere than an equivalent stand of hardwood trees. Bamboo also controls soil erosion and conserves biodiversity.

The bamboo fibre itself comes from waste material from a chopstick manufacturer in the region where the factory is situated in China.

Ecoffee Cup offsets the carbon emission of its product shipping. In 2019, the offset amounts to a total of 198.39.



Ecoffee Cup's contribution to a Healthy Society
The Ecoffee cups are thoroughly tested, resulting in several food safety certificates, such as LFGB, FDA and Everyday Use Test.
Ecoffee Cup has a global reach, giving eco-conscious customers in 38 countries the possibility to buy an alternative for single-use cups.
Ecoffee Cup increases customer awareness through social media with 32,000 followers.

Ecoffee Cup's contribution to Inclusive Prosperity
The production factory is SEDEX (SMETA Version 6) as well as BSCI certified ensuring fair and transparent business practices.

Ecoffee Cup is one of the investments of Triodos Food Transition Europe Fund. Discover in the 2019 Impact Report how the fund aims to accelerate the transition to a sustainable food and agriculture system. The report also highlights the other investments in portfolio.