Triodos Food Transition Europe Fund took an equity position in TIPA in August 2019.
Core impact indicators (figures as per end of 2019)
Tonnes of plastic replaced
680 tonnes
% bio-based inputs
24%
Annual spend on R&D
USD 3.6 million (80% of 2019 turnover)
Towards ecologically and socially resilient food systems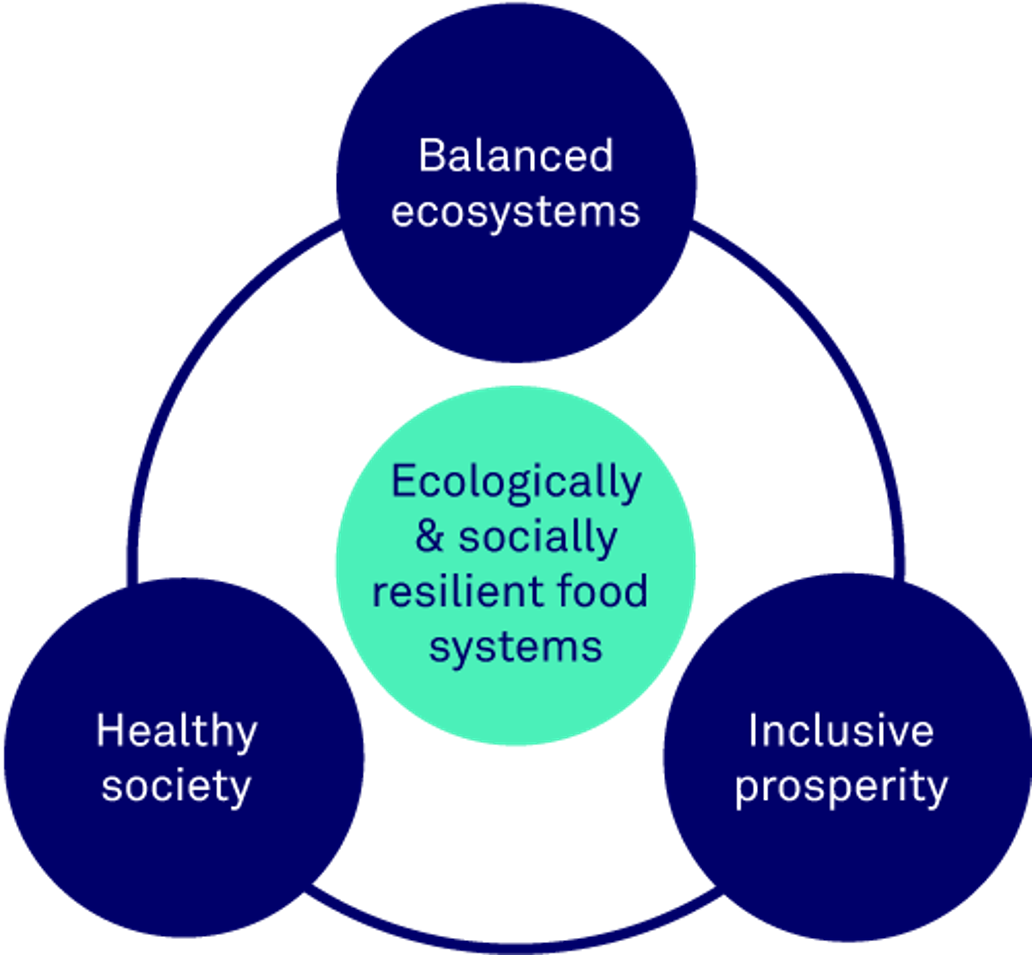 Triodos Food Transition Europe Fund believe that food and agriculture systems should deliver healthy nutrition for all, without damaging the natural systems they depend on, and deliver inclusive prosperity for those active in the food and agriculture chain.
The portfolio companies the fund invests in must contribute to these pillars – balanced ecosystems, healthy society, and inclusive prosperity – that contribute together to ecologically and socially resilient food systems. TIPA's contribution is shown below.
TIPA's contribution to Balanced Ecosystems
TIPA's products are fully compostable within six months in an industrial compost.

TIPA has multiple certifications for biodegradability and compostability:

All of the mateirals abide by international standards for industrially compostable materials EN13432, ASTM D6400.

In France (NF T51-8000) and Australia (AS 5810-2010) a selection of TIPA's products are certified for home compostability.

Following R&D research in 2019, TIPA will launch a new series of home compostable solutions in 2020.

TIPA uses the unused capacity of conventional machinery to produce all its products.

All TIPA's products are GMO-free.
TIPA's contribution to a Healthy Society
TIPA sold 560 tonnes of sustainable packaging in 2019 to 95 customers, mainly in France, Germany, the Netherlands, United States, Australia and the UK.

TIPA shared its mission insights at 17 events across the globe, including the World Economic Forum in Davos where CEO Daphna Nissenbaum shared her insights on how compostable packaging has a part to play in tackling climate change.

In 2019, TIPA's waste generated by operations was around 15% and intended to be lowered to around 10% within the next 18 months.

TIPA has established a social media following of +10,000 which it uses to raise awareness about a sustainable and viable alternative to conventional flexible packaging made out of plastic.



TIPA is one of the investments of Triodos Food Transition Europe Fund. Discover in the 2019 Impact Report how the fund aims to accelerate the transition to a sustainable food and agriculture system. The report also highlights the other investments in portfolio.