Certainly, times have changed since Tobias Schubert and Roman Hartmann co-launched Swiss company Farmy in 2014 - an online market for transparent and sustainable local shopping. Yet six years later, it's apparent that the two founders have tapped into an unchanging need to connect and the evolving ways of doing it. By sourcing some 12,500 products directly from over 1,000 suppliers, including farmers, butchers, bakers, and wine makers Farmy is the technological link between producers and consumers. And its founders' visionary mindset has also given Farmy a competitive edge during COVID-19, where its revenues have tripled since the onset.
Recently, Triodos Food Transition Europe Fund has taken an equity stake in Farmy. We sat down with the two founders to learn more about their business model, to better understand their success during COVID-19, and talk about their growth ambitions.
What brought you to the idea to start Farmy?
Tobias Schubert: We got to know each other when we were both working in Moscow. We immediately saw our complimentary skillsets and ambition. Both of us wanted to start a company in the internet e-commerce space but had the desire to do something more purposeful.
My grandparents from my mother's side were wine makers and small farmers, so I'm used to harvesting since early childhood, and on my father's side, they're all doctors. This care for what we eat, and where it comes from has been a part of my life since early age.
Roman Hartmann: For me, my motivation was quite similar. Although I moved to Germany from Russia when I was 14, in my early childhood, I spent summers in the countryside where my grandparents used to live. At that time, there was still the Soviet Union and it was common to produce food yourself. In my adult years, I also became a 'hobby' cook and always tried to get products directly from the farmer or wine maker, and so when I met Tobias, it became really clear to me that I wanted to transfer this experience to the online world.That was our starting point.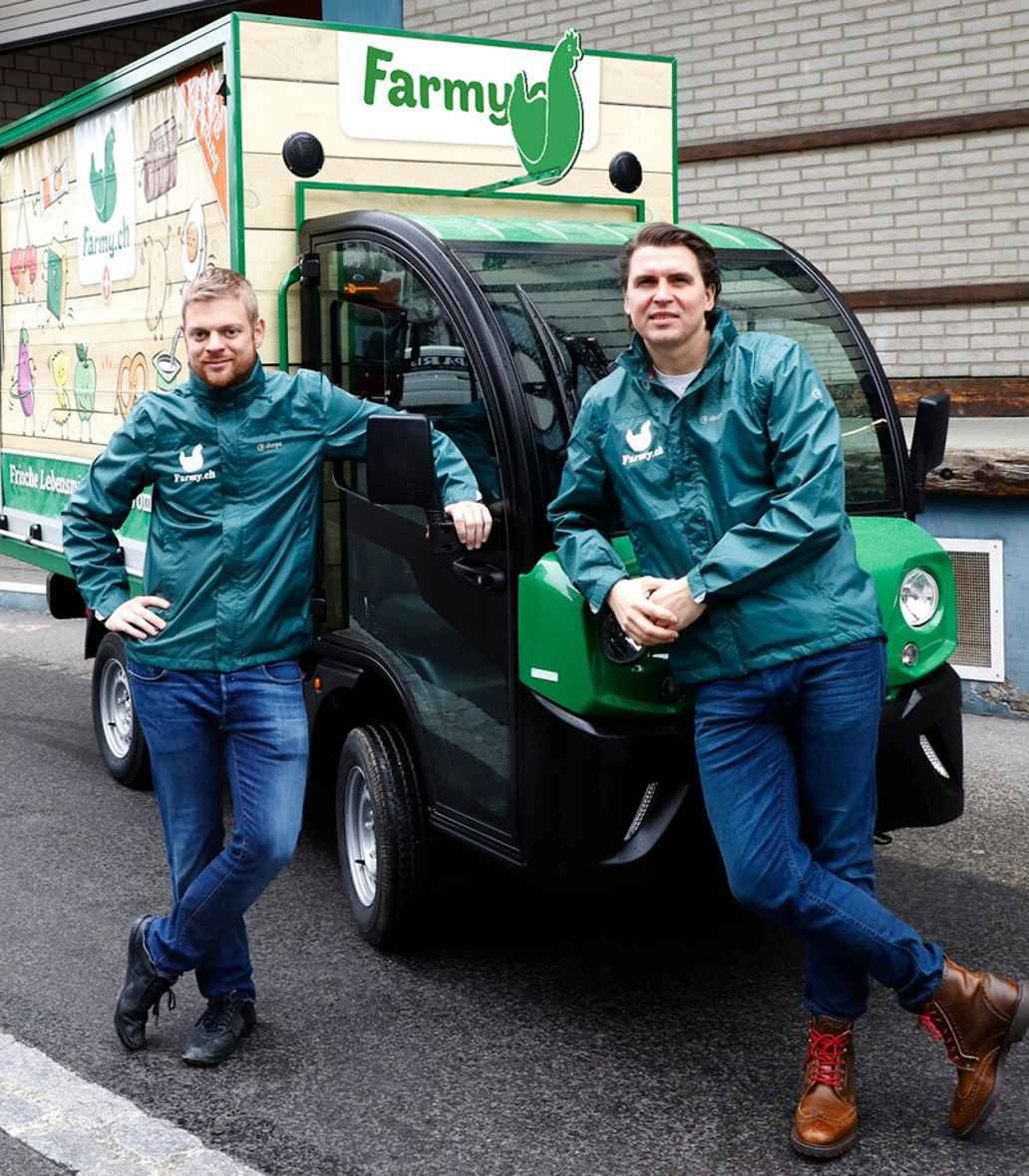 It's one thing to have an idea, what was essential in the process to actually starting Farmy as an online platform?
Schubert: We spent almost a year to find the right concept and the right market for it. We knew we wanted to do something in organic and sustainable food, but it took a while for what we know as Farmy to be created in its current form. What was essential was the analytical research, creating business models that allowed us to calculate when we'd become profitable. Through our research, the grocery topic was very interesting to us and at that point, online shopping was in its very early infancy stage. Therefore, our emphasis and mastery of IT would be crucial if we wanted to be successful. What was further essential was an in-depth market analysis of major metropolitan areas in Europe and based on that, we chose Zurich in Switzerland, where organic food consumption was highest.
There is an increasing awareness among consumers to buy sustainably produced food and many players are tapping into that market. What is Farmy's competitive edge?
Hartmann: We make it a full experience for the customer. Online, they can easily choose their products and pick a time slot. We have apps to support this. We send reminders for their next shopping or run automated campaigns – try to make it a bit more of an interactive experience.
Schubert: And offline, the groceries are delivered via our environmentally friendly electric trucks in order to reduce CO2 emissions. Customers then receive their food by a friendly face who gets training in customer care from us. We tell all our drivers and customer staff to treat customers as friends and to approach everyone with integrity. Most of our customers order twice a week, so who delivers the food matters just as much as where they get the food. And this value of treating everyone with integrity is the same value we carry when working with farmers and local producers. And when our customers receive their order, they can see exactly where the food comes from on the label, connecting them straight to a local producer.
What is the impact of COVID-19 on Farmy?
Schubert: While overall it's a difficult time, purely from an economic perspective, it's been very positive in regard to revenue increase and growth of our business. As initially mentioned, online grocery shopping – with a few exceptions – was still in its infancy. When COVID-19 came to Europe, the big players became active quite suddenly in the online grocery space, steering consumers to re-adapt to a new, more technological environment. With this shift in behaviour, our revenues have tripled, and we've doubled the team. We're working at capacity now in our two hubs in Zurich and Geneva.
What was the rationale behind your decision to attract new investors?
Schubert: Farmy is growing and we need more capital to expand and increase our profitability. When looking for an investor, Triodos Investment Management and specifically, Triodos Food Transition Europe Fund, was our most desired investor. Triodos shares complimentary values in terms of transparency, excellency and sustainability. For us, it was also an opportunity to gain a partner. Triodos has experience in investing in organic food companies such as Aarstiderne in Denmark – where the founder Thomas Harttung is a board member of Farmy. If we want to expand outside of Switzerland, Triodos' strong network would be mutually beneficial.
Hartmann: We're also going to use the capital to expand our IT. We've invested heavily in our in-house IT alongside our supply chain, building up a strong knowledge of the customer journey, how to create the infrastructure, and ways to store data safely. To the point where we've also become an active IT service provider, developing a second part of the business. Where we enable sustainable food retailers to digitise their products and by sharing our IT knowledge and providing software as a service. We have the ambition to grow this part of our company outside of Switzerland and further connect other players to their customers.
What do you see as defining trends in the food industry that will help you realise Farmy's growth?
Hartmann: There's this paradigm shift away from global sourcing to local sourcing as awareness of conscious consumption increases. Consumers are becoming more aware of the need to connect to what it is they eat, where it comes from, and also how it works. Technology helps them with that. So as a company, we have to continue lean into and invest in technology in order to make real lasting change.
Watch the webinar 'Accelerating the food transition'.
Learn about trends and developments in the food market and find out how two companies in the portfolio of Triodos Food Transition Europe Fund have been able to stay relevant and financially healthy despite huge challenges in face of Covid-19. Guest speakers Thomas Harttung of Aarstiderne in Denmark and Benoit Plisson of Hari & Co in France, are happy to share their stories of creativity and agility.