An unplanned career
Trained as a mechanical technician and having worked for a Japanese multinational Mario De Alwis joined his father's trading business in the late 70s of the last century. Mario De Alwis: "This opened up my world to the rural life in Sri Lanka. In particular in the Dumballa/Matale region, which has exceptionally fertile valleys due to the monsoon rain captured on the north-eastern slopes. And it also brought me in close and personal contact with farmers." These combined experiences laid the foundation for his insights into the role and responsibility as an entrepreneur and employer.
He diversified his activities by running a small backpackers inn and a restaurant. "I love food." Then, in 1983, everything blew up. A civil war between Tamil militants and the government broke out and tourism collapsed. Mario De Alwis stayed in touch with many guests around the world and sent them small packages of house-made curry powder and cooking instructions. Their enthusiasm and his love for food made him launch his first brand of curries. In 1986, Mario and his wife Suzette started their home-based company: MA's Kitchen. "The name is linked to the keeper of many family recipes that pass from the one generation to the next: the mother." Since then, MA's has grown to become one of the country's leading firms in the food processing industry and is known as the premium processed food, seasonings and spice brand in the Sri Lankan market.
Adding coconuts to the mix
The development of MA's Foods took an unexpected turn in 2004.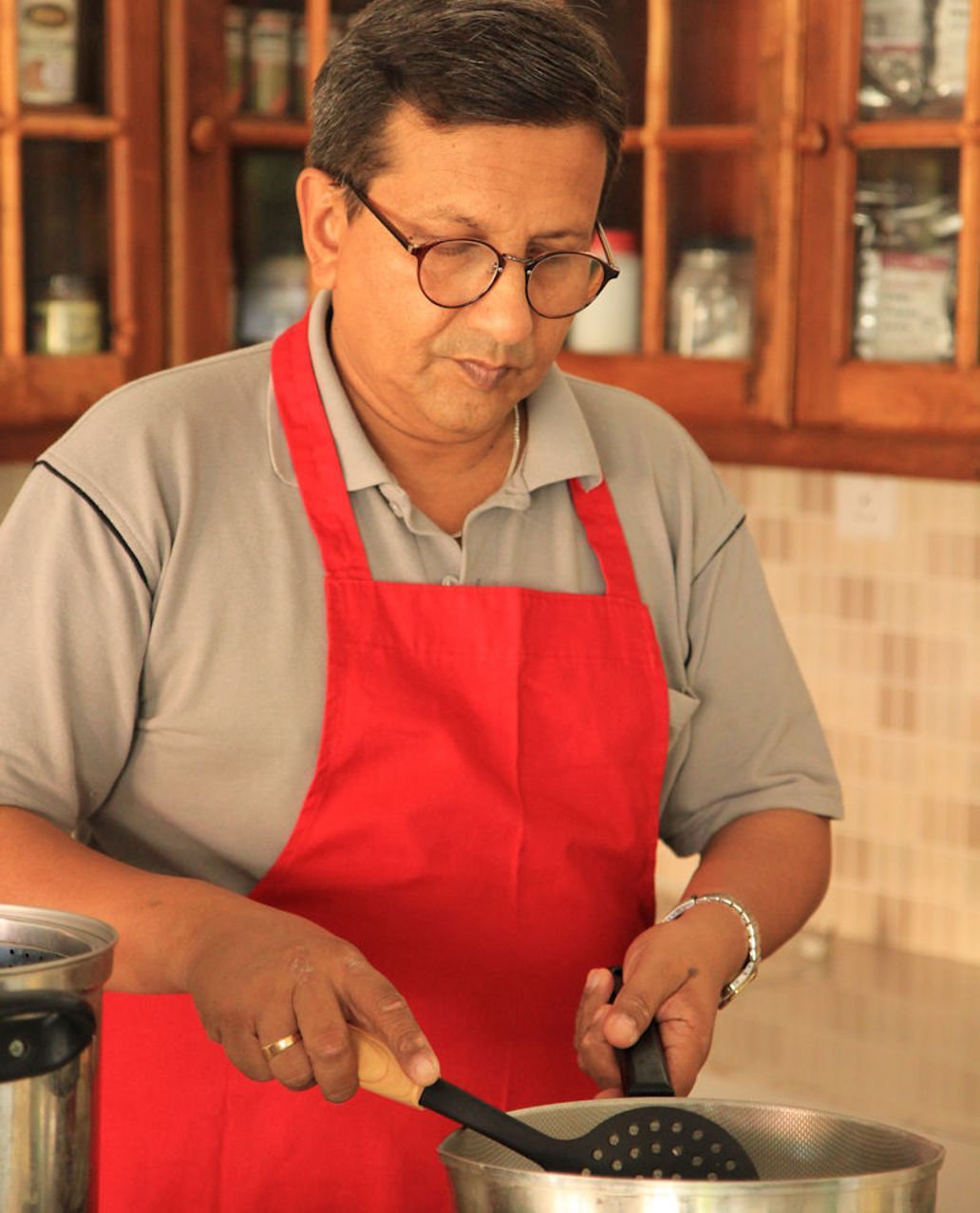 His bank manager tested Mario De Alwis' interest for buying a closed and rundown coconut processing factory. "I was reluctant because of the loan I had to take out. But I also looked with my mechanical engineering eyes and saw that the machinery was in very good condition. So, although I knew it was working for my heart but not for my pocket I decided to purchase the factory." The coconut processing factory, which is located close to the capital city Colombo, has spurred MA's Foods' growth and increased its exposure to international markets. "We currently sell our products to different markets: one third domestic, one third to industrial customers, such as Unilever and Nestlé, and one third to international markets, predominantly coconut milk & curry to the Netherlands and Germany, and coconut milk and curries to Japan."
Inspired by the Japanese business model
While working for a Japanese multinational at the start of his career, Mario De Alwis learned one key lesson: the importance of taking care of the people who work for you. MA's Foods currently employs 350 people and works with a further 120 farmers – a number he expects to grow to 500 and 300 in the coming years. Mario De Alwis: "We provide housing and meals to our workers, school stationery to their children and farmers' children, education loans, and offer a special allowance and support during and after pregnancy, to name a few things." Many of them have been working for MA's Foods for many years. "One of them, a school leaver, walked in when she was 18 years old. She is now a factory manager. Her children follow technical education and the family has its own house."
The native wisdom to grow
"Be in tandem with your environment, the people, and the region," he stresses. Fair and organic are key words for him. "We have assisted farmers to organise themselves in order to qualify for the fair trade conditions and benefits from the fair trade premium. Furthermore, around 30% of our products are organic certified." A percentage he expects to further increase. "'The fertile soils in the Dumballa/Matale region have been cultivated for thousands of years and encompass a native wisdom to grow. Already in 400 AD one of Sri Lanka's kings Budhadasa – also a Ayurveda physician – valued the importance of safe and healthy food and had this written down in a document Sarartha Sangrahaya, which is still viewed by physicians to date." He is happy with the crusade of the current president against chemicals and pesticides. "Coming from a farmer family and as a former Minister of Health, our president is very much aware of the negative side effects, such as polluted water and chemical diseases."
MA's Foods' true value – an investor perspective
It is time for the next generation to take over. Mario De Alwis: "Fortunately, both our sons decided to return to Sri Lanka after they had finished their studies in Australia and in the past ten years we have carefully explored possibilities. We had long talks with potential investors in order to acquire succession capital. However, most of the equity funds we spoke with only valued our business, and not our approach and heart content. They didn't include the human and humane part of our business, namely the way we take care of our employees. In Indian investor Avishkaar we have found a like-minded partner who does take these matters into account."
This doesn't mean that Mario De Alwis will stop working. "There are other things that need me. During the war years I realised that many families lost members and we could feel and see the destruction first hand. I want to be part of the rebuilding process. Especially in the north which suffered greatly." In this post-conflict Tamil region Mario has purchased a small rundown dairy factory that he wants to reconnect with the farmers. And also this time he knows that this purchase is working for his heart and not for his pocket for now. "But soon," he says, "it will become first sustainable and then profitable for the family business and its stakeholders. Our tag line is 'Crafting Tasteful Moments' and with all the support we can get we will continue to craft these moments from the farmlands of Sri Lanka to the households around the world."
Triodos funds: building an eco-system
MA's Foods' buyers in the Netherlands are DO-IT and Fair Trade Original through whose channels the coconut milk cans of MA's Foods find their way to the shelves of supermarket chains of Albert Heijn and Jumbo. Triodos Sustainable Trade Fund has played a key role in linking MA's Foods to these international markets. The fund's trade finance to MA's Foods can bridge the period of processing and storage until final shipment and payment, and pay the farmers upon delivery of their produce.