The organic food market in France has grown rapidly in recent years and currently represents 4% of the total food market. Beendhi products are sold in organic specialty stores under the Beendhi brand, and in conventional retail chains under the Alaya brand. The company's founder Beena Paradin Migotto was born in India and moved to France at a very young age. When a friend challenged her to write a cook book during a dinner party she had no idea it would lead to three cook books, one of which won the Gourmand Award for Best Foreign Cookbook in the world. Since then she's also worked alongside world renowned chefs Alain Ducasse and Olivier Roellinger, and created a line of gourmet spices. In 2015, with her drive and experience behind her, Beena founded Beendhi, which produces a range of vegetarian organic food products that aim to (re)connect people with food.
No compromise
Beena makes it clear from the start that Beendhi's range of ready-to-cook and ready-to-eat meals are underpinned by some very important characteristics.
"Our products don't compromise on taste, health, convenience or affordability. They are all made from organic, unprocessed and premium quality ingredients, and don't contain preservatives, additives, colouring, glutamate, palm oil or any flavour enhancers. Everything is selected for its taste and nutritional qualities," she says.
And she doesn't want Beendhi's customers to have to compromise either.
"If people want convenience it's often not healthy, or if they cook themselves it's often not convenient. They don't have to make that choice with our products," she says.
Ayurvedic principles
Beendhi's meals are also founded on Ayurvedic principles, which means they take into account what you eat, as well as when, where, why and how. It's an approach to a sustainable diet that could be the answer to many global challenges.
"'Food has been my passion since I was a child. I love to cook! But beyond taste, I believe that food is about nutrition and nourishing your body with healthy, quality food because it goes into your every cell. When I started to consider the idea of Beendhi, the ancient healthy lifestyle principles seemed an obvious approach. For example, we make a lot of effort to promote the use of seasonal vegetables and source as locally as possible. It's the best way to fuel your body and it's far better for the environment. Our website has lots of recipes for seasonal foods that promote a diversified and balanced way of eating."
Connecting food with agriculture
Beena is passionate about understanding how and where food comes from.
"When I was a child I wanted to understand the connection between food and agriculture. I grew chickpeas on my parent's balcony, but they didn't taste very good though," she tells laughingly. "I still really enjoy knowing where my food comes from, going directly to the farmers to buy my vegetables. I like to chat with them, to understand who they are, and how and where they grow their products."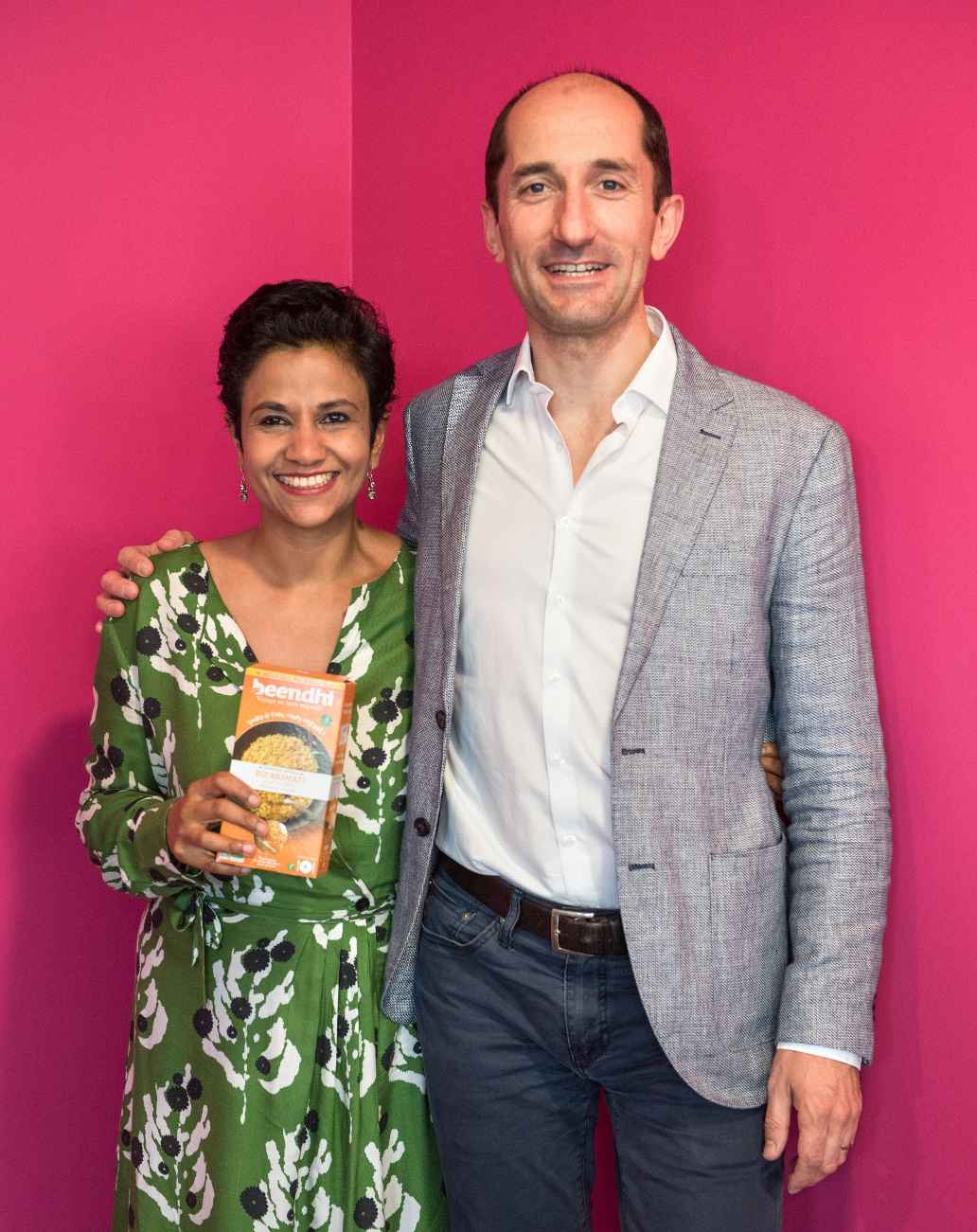 She takes this same curiosity with her when meeting with suppliers in Sri Lanka, India, Italy and France.
"It's very important to me to know and meet the people that grow our ingredients, to know how they're treated, who the communities are, and how they're protecting local biodiversity. We look at all those aspects before we enter into a partnership agreement," she says.
Beena wants her customers to know too and regularly posts on social media when she visits farmers to taste products and she describes the challenges they discuss.
Triodos investment to support innovative scale-up
Beena likes the idea that her products reach beyond French borders and has just started exporting to Belgium and the UK. She would eventually like to expand European-wide, but doesn't want a scale-up to come at the expense of product quality or fairness to farmers.
"We want to build a more direct relationship with our suppliers and become more affordable but we don't want to become some big facility in a remote place where we make millions of the same poor quality product. Triodos Organic Growth Fund is helping us find the balance between scaling up and being cost effective so we can remain affordable. With the investment from Triodos Organic Growth Fund, we're building a digital platform to connect our farmers to make our supply chain shorter, fairer and more transparent," she says.
"The organic industry is very artisan-like and if we want to make organic food more affordable we should scale up without compromising it the way mainstream industrial-scale farming does. We don't want our farmers to be squeezed on price. We always buy the best, and we pay a good price to the farmers. We want to make our products affordable but not so cheap that the farmers lose out. Our farmers can join the online platform and we will be able to analyse their products for quality and check their organic and fair trade certifications too."
The longer term challenge for Beena, as she sees it, is investing in innovative production methods to further improve affordability. Having machines and robots to process the food at a highly competitive price, she will continue to provide the artisan quality but at an industrial price.
Explore our impact report 'Accelerating the food transition' to find out more about our role as investor in the food transition. The report presents our 2019 results in a context of numbers and stories and showcases our mission to make money work for positive change.