Staggering numbers
Globally, 1.3 billion people do not have access to energy and another one billion only have limited access. Annually two million people die prematurely due to indoor air pollution, mainly caused by using pollutive cookstoves and unsafe kerosone lamps. Another one million people die from fires caused by kerosene lamps. These numbers fuelled us to use Triodos' 30-year experience in financing renewable energy in Europe and start looking for renewable energy investment opportunities in emerging and developing economies.
Technological backbone
A recent addition to our growing renewable energy portfolio in emerging and developing economies is M-KOPA Solar. This company was founded in 2011 by former executives behind M-PESA, the world's leading mobile payment platform. M-KOPA uses an innovative approach to give low-income households in East Africa access to power: it combines mobile payments with GSM sensor technology to enable households to buy a solar home system at an affordable price.
Let's illustrate this with the situation in Kenya. In Kenya alone, nearly eight million homes spend more than USD 1 billion on kerosene lighting in a year, which is about USD 200 per household. A solar home system worth USD 200 is a better and healthier alternative, but the upfront costs are too high for low-income households. With M-KOPA, customers can deposit USD 35 dollars to take out a high quality solar home system. Then they make daily top ups via their mobile phone at any time at USD 0.45 a day. The cost is less than kerosene. Embedded GSM technology activates the solar home system remotely when credits are bought. After completing the payment plan – roughly 12 months - customers own a high quality solar home system, with multiple lights, mobile charging and a radio with a two-year guarantee.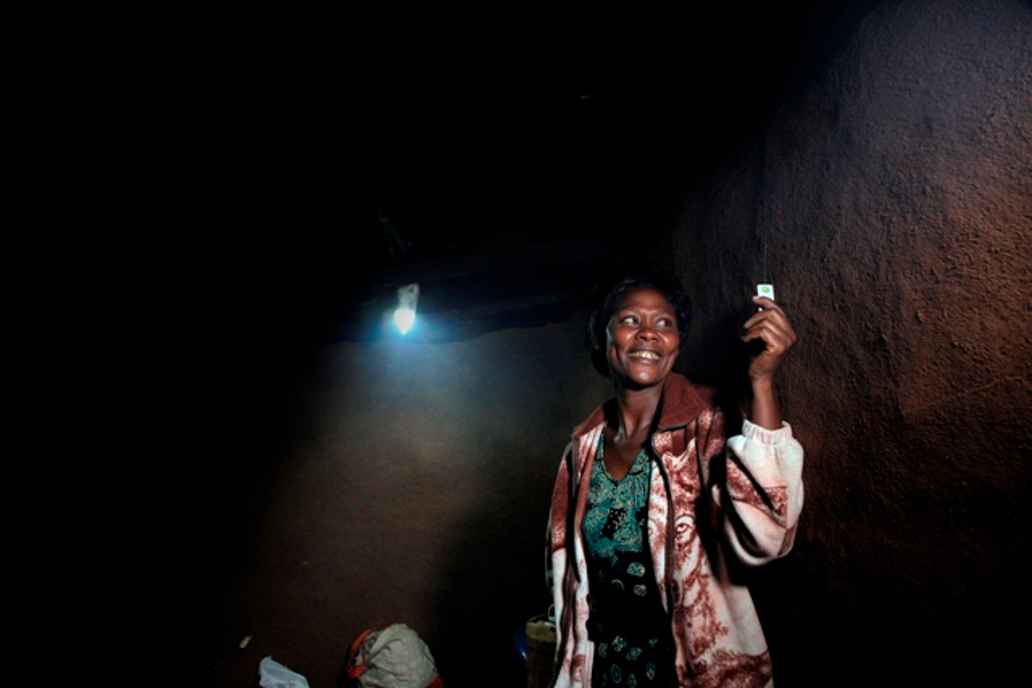 Global market leader
By now, M-KOPA has connected over 230,000 households in Kenya with its solar home systems and is adding 2,000 to 3,000 units per week. M-KOPA is also expanding to new markets: Uganda with over 40,000 customers and Tanzania (since October 2014) with over 7,000 customers. This makes M-KOPA the global market leader in 'pay-as-you-go' solar services in terms of outreach. Working capital financing is needed to further scale-up the company's outreach. The USD 1.5 million loan provided by Hivos-Triodos Fund supports M-KOPA in this endeavour.
Karel Nierop, Fund Manager Hivos-Triodos Fund: 'Starting this relationship with M-KOPA enables us to further venture into renewable energy in emerging markets and grow with M-KOPA and its ambitious expansion plans, as well as catalysing further growth of a young innovative company."
Impactful
The social and environmental impact is clear: 80% of M-KOPA's clients earn less than USD 2 a day, 75% is active in agriculture, and virtually all are based in (semi-)rural areas with no access to on-grid electricity. Furthermore, M-KOPA's solar product displaces fossil fuels and improves livelihoods in terms of health, safety, enabling education and entrepreneurship, and saving of time and money.
Karel Nierop: "Access to energy is something we often take for granted. But the availability of energy has a direct impact on the broader level of development of a country or a region's social, economic and environmental sectors. And it very directly impacts the lives of people. You can make mobile payments, because you can charge a mobile phone. Television, radio and increasingly the internet offer households a window to the rest of the world. Children do not have to rush their homework, they can finish it after sunset by the light of a bulb."
Hivos-Triodos Fund's ambition is to significantly grow its portfolio in renewable energy in coming years. Karel Nierop: "The loan to M-KOPA is a landmark deal for Hivos-Triodos Fund as it is our first renewable energy investment in a non-financial institution. We hope that this deal can be a catalyst for other deals in this segment."
More information: www.m-kopa.com
For an overview of our activities in energy and climate, please visit the Energy and Climate investment strategy page and for an overview on our activities in emerging markets, please visit the Inclusive Finance investment strategy.