Access to finance empowers and changes lives
After a career in journalism with a focus on international development issues that took her from New York to Rome, Essma Ben Hamida returned to her home country in 1989. She was shocked to see the level of poverty and inequality. "What also struck me was the complete absence of women in the streets, cafes, markets and shops. They didn't leave their homes because of traditions and culture," confided Essma.
Essma decided to do a door-to-door survey in the poor suburbs of the capital city Tunis, asking the women why they are not active. Of the conversations, three obstacles came to light: money (capital), skills (training), and markets. The outcome was that women – originally from rural areas – certainly had basic skills, such as weaving, sewing and raising animals. Essma: "However, they didn't have the capital to grow their tiny activities, they didn't have the opportunity to improve their skills, and in case they had products to sell – rugs, scarves, pastries or eggs – they usually did this indirectly through middlemen."
She also found that many of the women wanted to develop a business but lacked courage to ask their father or brothers for money. So, Essma, together with husband Michael Cracknell, started to provide small loans to these women, which ignited the start of Enda inter-arabe.
Today, Enda inter-arabe is ranked among the leading microfinance institutions in the African and the Arab region with 265,000 active borrowers, a EUR 136 million outstanding portfolio, 79 branches, and staff of 1,270.
"I can see the changes that access to finance has brought our clients. It has made their lives fuller and less stressful. They earn, they decide, they are respected, but most of all they are proud of themselves. Access to finance empowers and changes lives."
Through its branches, Enda offers clients a place where they can meet and where they can also take part in workshops in different areas, from negotiation tactics to marketing products to understanding women's rights and discussing domestic violence. During the elections in 2011, Enda informed its clients about political rights and the importance of voting: it managed to convince 5,000 of its clients, especially women, to register to vote.
Focusing on the needs of clients
Enda's focus is on the needs of its clients. This can be illustrated by the education loan and the home improvement loan it has developed. Essma: "The school drop-out rate is high in Tunisia, and Enda's education loan helps families cover the costs of equipping their children for school which can be high when there are several of them."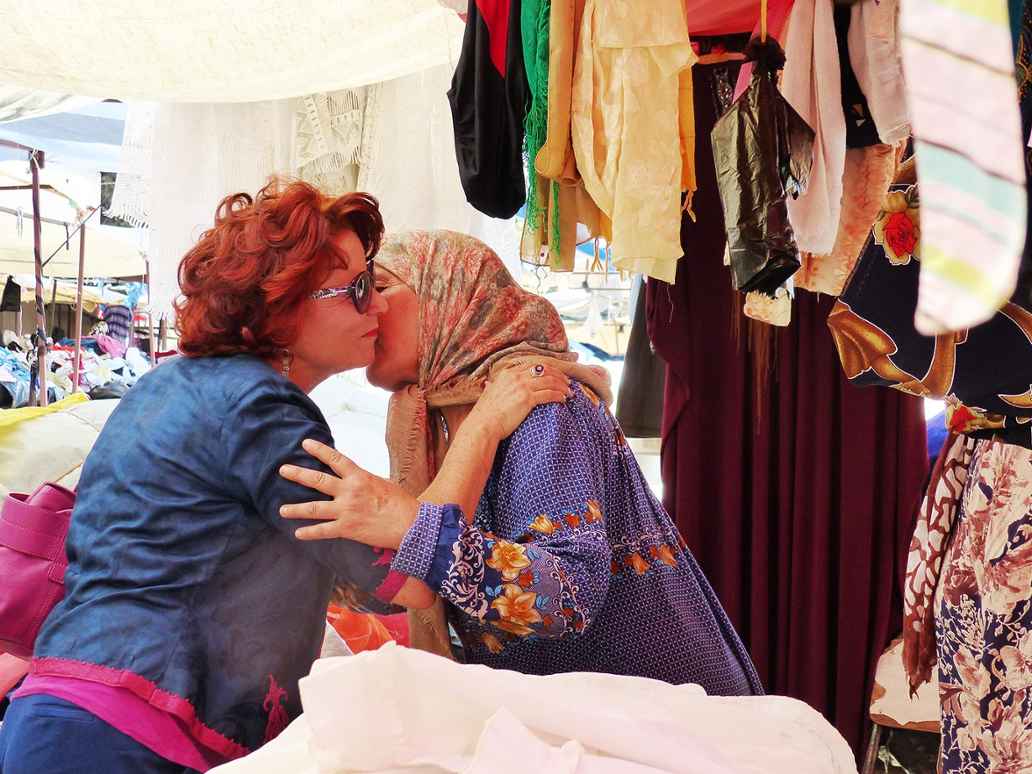 The home improvement loan – Darna – is in strong demand. A majority of Tunisians own their own home, however small. Darna allows people to pay for small improvements like adding a simple bathroom, or linking their home to the sewage system, and even to build a new floor to lodge their son when he gets married.
In 2007, Enda inter-arabe introduced a new product Taalim, specifically designed to promote and support children's education, especially in disadvantaged areas and is proposed at preferential conditions (pricing, duration, speed of disbursement). Since its introduction, more than 213,000 Taalim loans have benefitted 99,000 children, for a total of USD 40 million.
Initially, Enda focused on only women but after a gender training course Essma realised the importance of including men clients as well. "Our women clients supported the idea, saying that they wanted their husbands and brothers also to work and have their own business. Furthermore, throughout branches and workshops, we can bridge the societal gap between men and women."
Now Enda has 30% male clients as well. And from the underserved suburbs of Tunis, Enda has extended its outreach to the most remote and poorest rural areas, where 42% of its clients live. Mobile phone technology is instrumental in reaching out to these areas.
Nascent and fragile democracy
Tunisia is currently in the process of completing the transition towards a democratic system. "The revolution of 2011 brought us freedom, namely freedom of expression and a rapid growth of civil society with many new initiatives to further develop the country. But our country is small and vulnerable, and I am very concerned about the fundamentalists. They are a minority but might stifle democracy and deprive women from their fundamental rights gained under the late President Habib Bourguiba since independence. Their beliefs, especially regarding women's rights, would take us back to the middle ages."
Tunisia's nascent democracy is yet to be cemented and the country still faces high social and security tensions. But change – albeit slow and sometimes painful – is on its way, also for the banking sector.
Enda is in the process of becoming the first microfinance bank in the country. This means that it can further expand its products and services. "By becoming a bank, we can be a one-stop-shop for our clients and especially with savings products, which are currently not allowed for microfinance institutions like Enda, but are in high demand among our clients."
Youth employment is also high in Tunisia which is a fertile soil for radicalisation. When Essma started her microfinance activities in the early '90s she also ran a community centre where young adults – women and men – could interact and talk openly. But her microfinance activities took all of her time and energy: "This is my big regret."
Youth
Splitting off the financial services will mean that Enda's non-financial activities will be separated from the banking activities and will be placed with the NGO, which closes the loop for her involvement and passion in addressing youth unemployment.
When speaking about this opportunity, her eyes light up: "I want an important focus of the NGO to be on youth, for example an incubator programme with its own space in the poorer areas of Tunis, where young adults can be trained and inspired by successful entrepreneurs. Or by providing them start-up loans and coaching for the first 2-3 years of running their business."
Essma is both optimistic and realistic. "It will take a long time before Tunisia has evolved into a balanced society where men and women have equal rights and opportunities. Poverty is still our enemy. But I will keep fighting for equality and am convinced that Enda will continue to make this happen by empowering women and youth in Tunisia."
For an overview of our activities in inclusive finance, visit the Inclusive Finance strategy page.